Winnipeg will see mild temperatures near the freezing mark today, but a cold front moving through tonight will send temperatures plummeting.
Following last night's dump of snow, conditions today will be pleasant. With temperatures hovering near 0°C through the day, skies will clear with west-southwesterly winds picking up into the 20 to 30 km/h range. It will be short-lived, though: a cold front moving through this evening will bring deteriorating conditions to the Red River Valley. The front will pass through early this evening with winds strengthening to 40 gusting 60 km/h behind it. Cloud cover and flurries will move back into the region and temperatures will head towards a low near -11°C.
The combination of significant cooling, some additional light snow, and strong winds will produce poor driving conditions. Wet roads, some snow-covered, will likely re-freeze in the late evening or shortly after midnight as temperatures cool into the low single digits. The flurries and strong winds will produce widespread drifting and blowing snow. Drivers should prepare for the potential of icy roads and/or poor visibility if travel plans extend into the evening.1
The city will see cloudy conditions on Tuesday with falling temperatures as an Arctic high builds into the region. Moderate northwesterly winds of 30 to 40 km/h will persist as temperatures fall to around -15°C. The entire region will see a chance of scattered flurries through the day alongside localized areas of blowing snow. The wind will begin to ease on Tuesday night, bringing an end to the blowing snow. Unfortunately, the diminishing winds marks the arrival of the Arctic high; temperatures will dip to a low near -24°C on Tuesday night under clearing skies.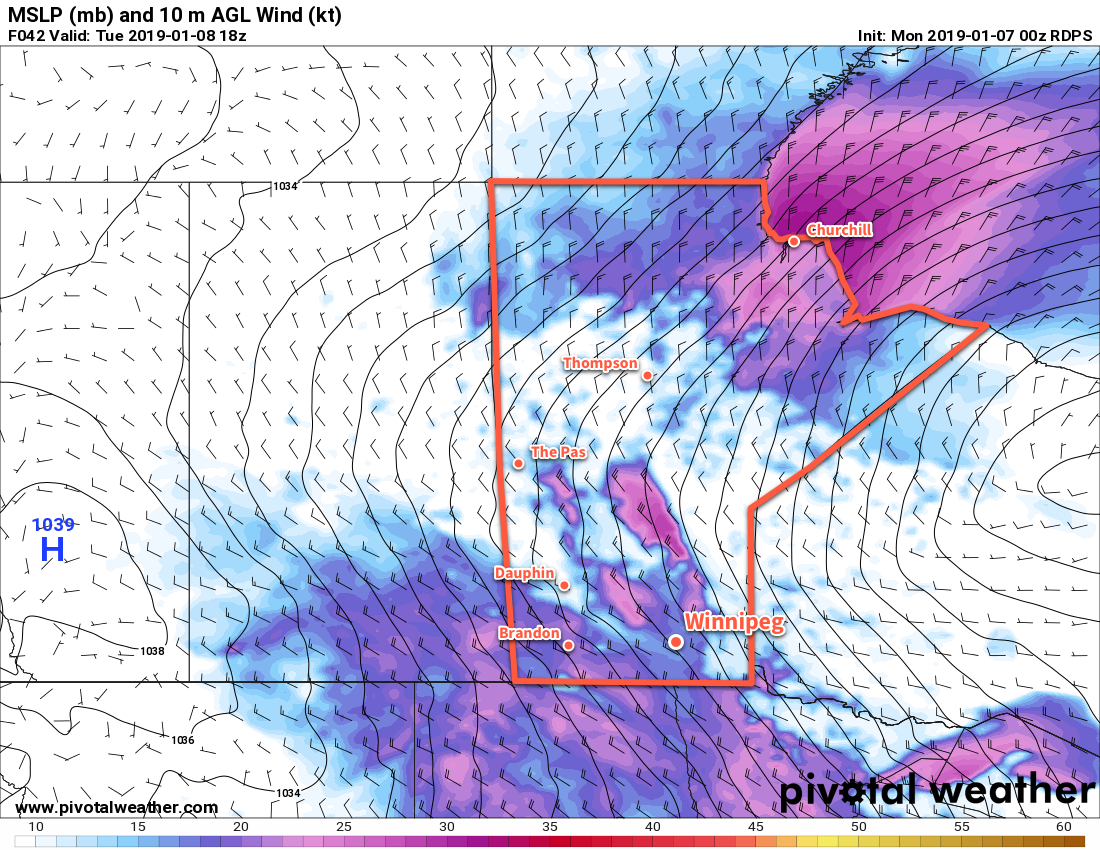 On Wednesday, Winnipeg will find itself entrenched in the Arctic air. Temperatures will climb to a high of just -17°C with light winds. Skies will likely begin the day clear, but a few clouds will work into the region in the afternoon. More cloud will build in overnight as a warm front pushes eastwards across the southern Prairies. This will help prevent overnight lows from dropping too much, only to around -21°C before climbing to about -18°C by Thursday morning. There will be a chance of snow late overnight.
Long Range Outlook
Forecasts show another disturbance tracking through the Red River Valley on Thursday that could bring another couple centimetres of snow to the region. Once it passes, the region will see a return to milder temperatures for the weekend with variable cloudiness. By Sunday, Winnipeg may see daytime highs near -5°C with overnight lows near -10°C, much warmer than seasonal for mid-January.
Winnipeg's seasonal daytime high is currently -13°C while the seasonal overnight low is -24°C.
In a somewhat rare change of pace, the strong winds will be generally westerly, meaning it will be north-south running highways that see the greatest potential impact from blowing snow. ↩