The deep freeze that gripped Winnipeg through the weekend will finally ease to start the new work week. Near-seasonal temperatures and cloudier conditions will move in for the next few days.
Temperatures will finally climb to a near-seasonal high of -13°C today, but will be offset by a moderate southerly wind. Unfortunately, 30 to 40 km/h winds will keep wind chills in the -25 to -30 range for much of the day. Conditions will improve later this afternoon as the winds diminish to light. The region will see cloudy skies through the day and there will be chance of flurries. Temperatures will remain seasonably mild tonight with a low near -16°C as a trough of low pressure moves through.
Mixed skies will return to Winnipeg on Tuesday as a weak ridge of high pressure moves into the region. Northwesterly winds near 20 km/h will diminish to light in the afternoon with temperatures will climb only just a bit to around -14°C. Winnipeg should see clear skies to start night, allowing temperatures to dip to a low near -21°C. Some cloud cover will begin to work into the region towards Wednesday morning as the next low pressure system approaches from Saskatchewan.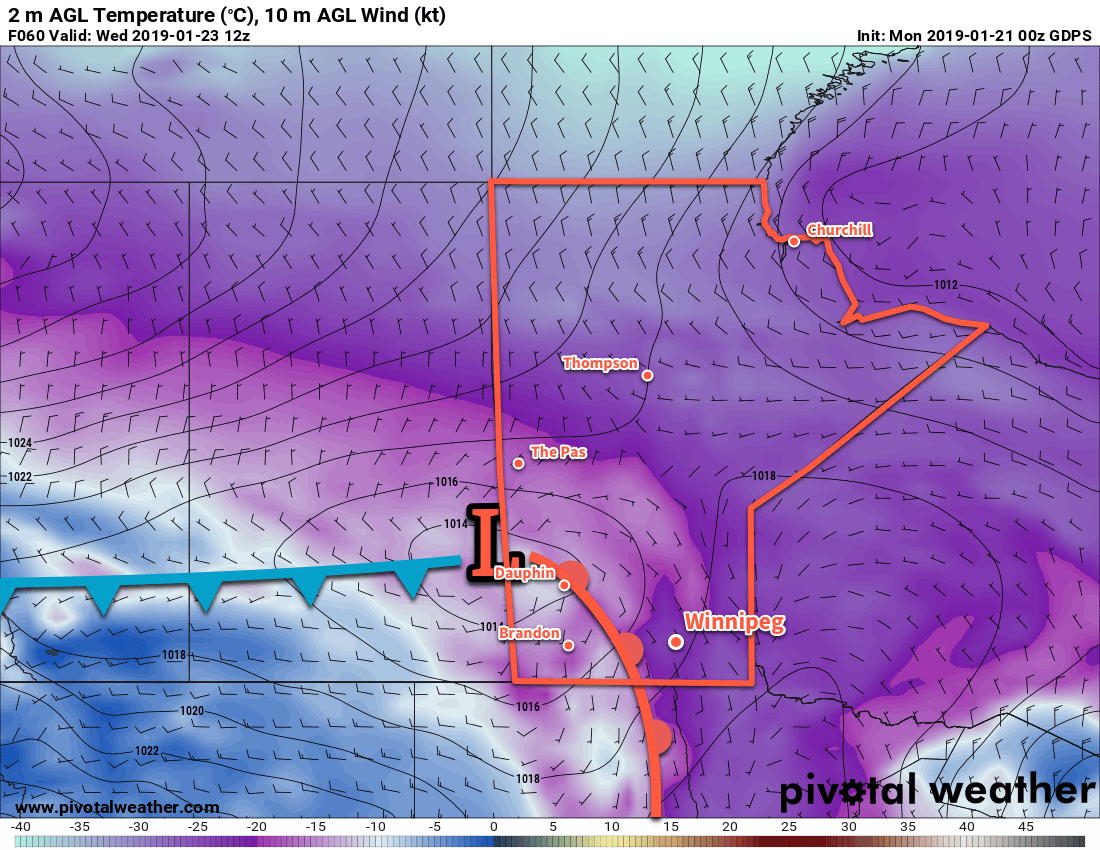 Wednesday will bring mainly cloudy skies back to Winnipeg as a low pressure system moves through the region. Temperatures will climb to a high near -8°C with a chance for some light snow, particularly late in the day. A strong cold front will push through the Red River Valley on Wednesday night behind this low. Winds will pick up out of the northwest to 40 gusting 60 km/h as skies clear and the temperature plummets to around -27°C
Long Range Outlook
The remainder of the week sends Winnipeg back into the deep freeze with highs in the -20s and lows in under -25°C. Moderation is possible this weekend, but the trend of below-seasonal temperatures is forecast to continue through the weekend into next week.
Winnipeg's seasonal daytime high is currently -13°C while the seasonal overnight low is -23°C.