Winnipeg will see a one-day break before heat and humidity builds back in for the weekend.
Conditions will be calm, comfortable, and quiet in Winnipeg today. A ridge of high pressure will move into the region today behind a cold front that passed through overnight. This ridge will bring plenty of sunshine to the region as temperatures climb to a high near 24°C. A northwesterly wind near 20 km/h will persist through much of the day, then diminish through the evening. Skies will stay fairly clear tonight as temperatures drop to a low near 16°C.
Heading into the weekend, a weak upper-level ridge will usher heat and humidity back into the region. For both Saturday and Sunday, daytime highs will climb to 29 or 30°C and overnight lows near 20°C. The humidity will build on Saturday with dew points climbing into the upper teens. For Sunday, dew points will rise back to the 20°C mark, similar to Thursday afternoon. The humid conditions will result in Humidex values in the mid-30s. Winds will be light out of the south on Saturday at around 15 km/h, but pick up into the 20 to 30 km/h range on Sunday.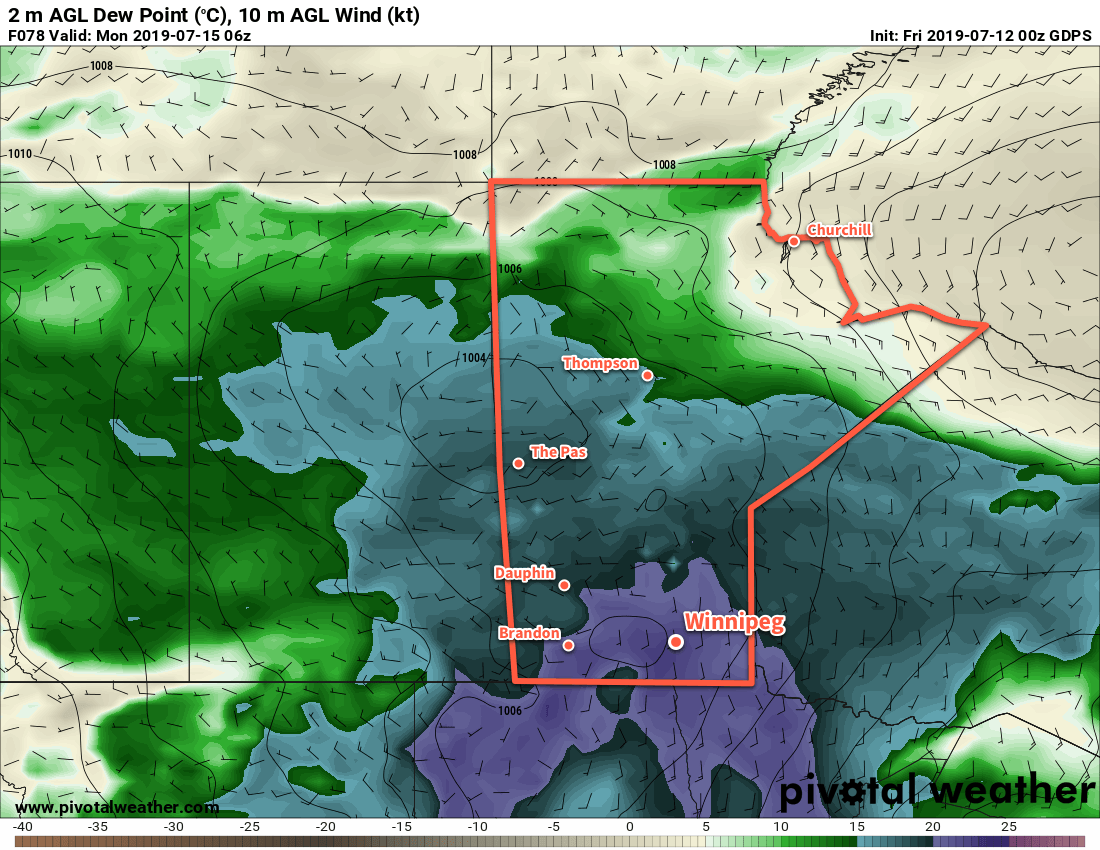 As far as active weather goes, the city will see a few chances for thunderstorms. The first will be on Saturday afternoon as a warm front pushes through the region. The second will be Sunday morning as an area of nocturnal convection moves through the region. Both are highly conditional, so be sure to stay tuned for any watches or warnings issued by Environment and Climate Change Canada through the weekend.
All in all prepare for a hot and muggy weekend with variable cloudiness and a couple chances for thunderstorms!
Long Range Outlook
Next week looks to bring seasonably warm conditions with slightly less humidity. The muggiest air will clear out on Monday with the chance for more thunderstorms. Then the remainder of the week will bring daytime highs in the 27 to 30°C range with overnight lows of 17 to 20°C. The city will likely see plenty of sun, but the overall pattern is slightly unsettled. As a result, there will likely be several chances of thunderstorms through the week.
Today's seasonal daytime high in Winnipeg is 26°C while the seasonal overnight low is 13°C.