Winnipeg may see a few showers or thunderstorms today and Wednesday, but the summer heat and relatively humid conditions continue.
The warm and humid weather continues this morning, but relief is on the way. Winnipeg may see a thunderstorm to start the day, but it's dependent on where the overnight activity decides to move. Most guidance suggests the line will remain north of the city, but there's a small chance that some new thunderstorms will develop along the southern end of the line. After that passes this morning, the region will see a mainly sunny morning with mixed skies in the afternoon. Temperatures will climb back up to 29 or 30°C with humid conditions continuing. A weak cold front will sweep through late in the day, bringing another chance of showers or thunderstorms to the city.
Winds will gradually turn northwesterly and strengthen to around 30 km/h through the day today, then ease in the evening. Winnipeg will see partly cloudy skies tonight as temperatures drop to around 17°C.
Tuesday will bring increasing cloudiness in the afternoon as the next low pressure system approaches. While still noticeable, the humidity will be a bit lower and comfortable as climb to a high near 26°C. Skies will remain mostly cloudy on Tuesday night with a small chance of showers. Temperatures will dip to a low near 17°C again.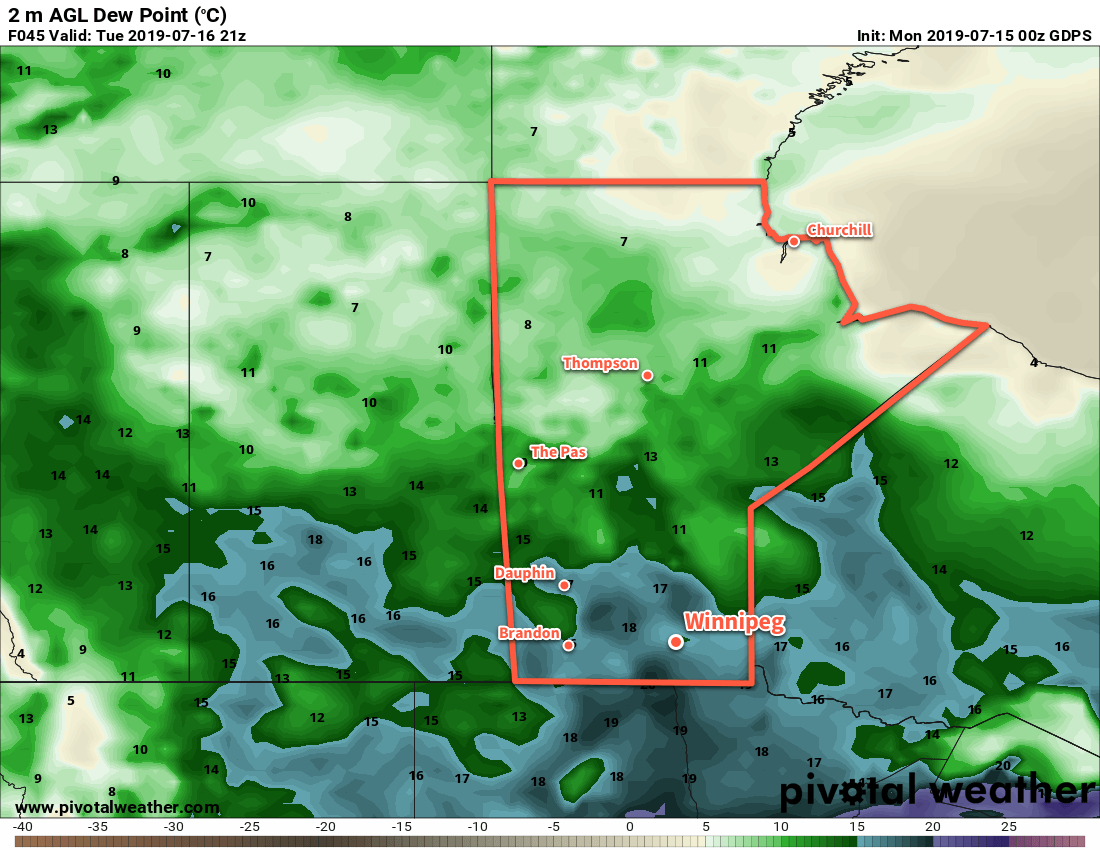 Unsettled weather returns on Wednesday as a low pressure system crosses the province. The showers or thunderstorms are likely, particularly heading into the afternoon. Early indications are that much of the Red River Valley will see 5 to 15 mm, but the convective nature of the rain will mean some places see more, and some less, than that. All the cloud cover will mean cooler temperatures with a high near 23°C in Winnipeg. The rain should taper off by evening leaving partly cloudy skies overnight.
Long Range Outlook
Thursday will likely bring mixed skies and another small chance of thunderstorms, then a big pattern change moves in. While temperatures won't cool down too much, a much drier air mass is forecast to move into the region. The weekend should bring highs in the mid- to upper 20s and plenty of sunshine!
Today's seasonal daytime high in Winnipeg is 26°C while the seasonal overnight low is 13°C.