A warm and increasingly humid air mass will move into Winnipeg this week, bringing chances for showers or thunderstorms to the region.
An upper-level disturbance moving through southern Manitoba will bring cloudy periods to Winnipeg today. There will be a chance of showers, but most of the rain will pass to the north of Winnipeg. The best chance for any rain will be in the morning and midday hours. Temperatures will warm up in the afternoon with some sunshine poking through the clouds to a high near 26 °C. Skies will clear out tonight with a low near 15 °C.
Tuesday will start the move towards a warmer and more humid air mass. A sharp upper-level trough will dig over the western seaboard with an upper ridge over the eastern Prairies developing in response. Skies will stay mainly sunny as a warm front begins lifting towards Canada through the Northern Plains. Winnipeg will see light northeasterly flow ahead of the warm front through the day as temperatures head to a high near 30 °C.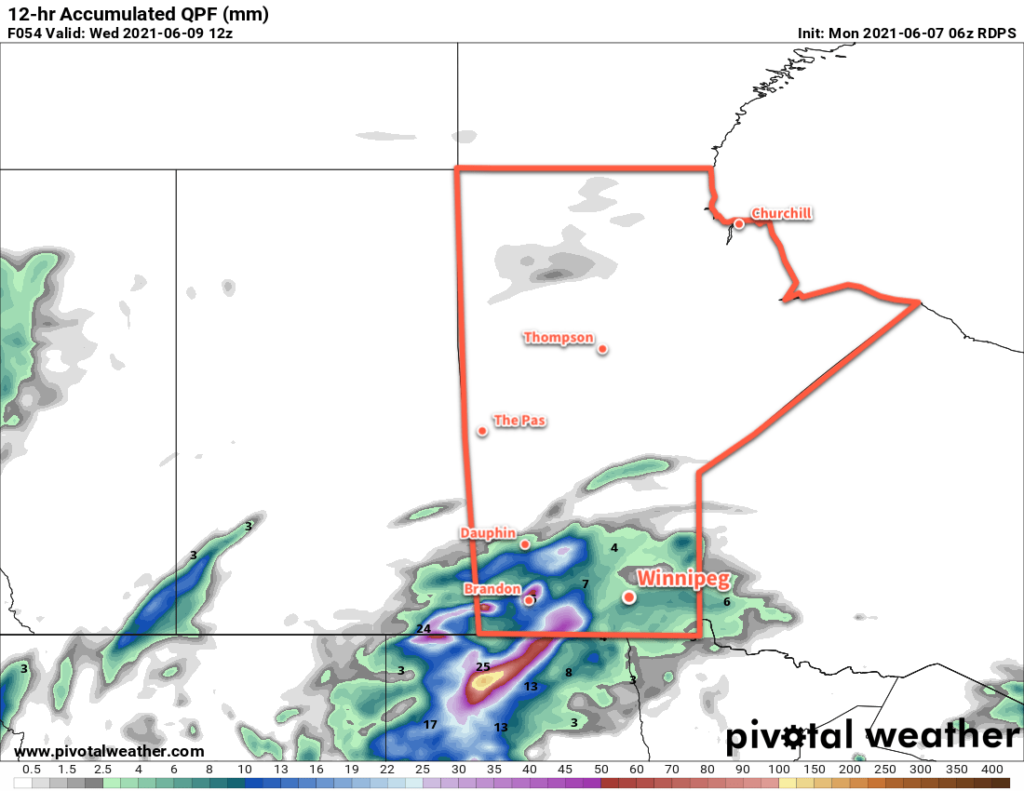 On Tuesday night, a low pressure system lifting out of Montana will support a strengthening flow overrunning the warm front. The combination of lift and destabilization will produce thunderstorms over the northern Plains that will push across southeastern Saskatchewan and southern Manitoba into Wednesday. There will be enough instability and organization in the environment for the risk of severe thunderstorms. The primary threats overnight would be hail and wind. There is also a chance that the thunderstorms may organize into a squall line. If they did so, it could bring damaging winds to portions of southeastern Saskatchewan and/or southern Manitoba overnight.
Temperatures will head to a low near 18 °C on Tuesday night.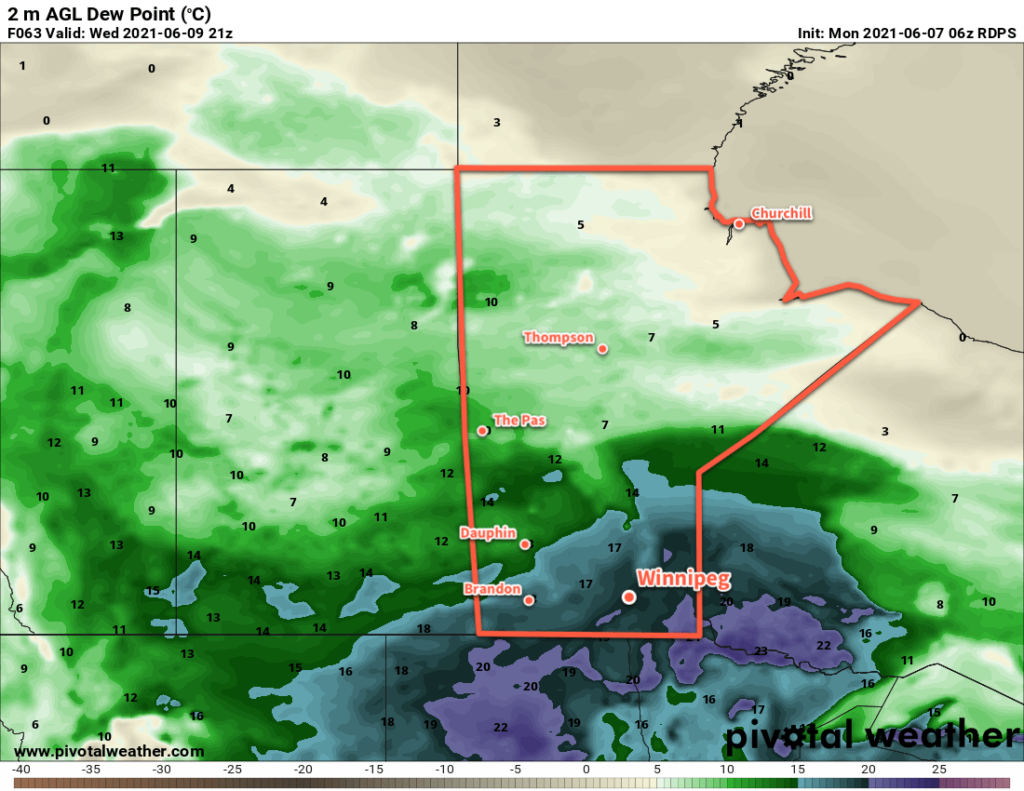 On Wednesday, the warm front will lift northwards into southern Manitoba. This will combine with an upper level disturbance moving into the region to support scattered showers and/or thunderstorms. The cloud cover will keep temperatures cooler than Tuesday, but it will become substantially more humid. Although the high will be around 26 °C, dew points will climb into the 18–20 °C range and make it feel closer to the low 30s. The unsettled weather will push off to the northeast for Wednesday night with a low near 17 °C.
Long Range Outlook
The warm and humid weather will stick around for the rest of the work week with highs in the mid-20s and dew points hovering in the upper teens. The sun should return for Thursday afternoon, then another passing low will bring a chance showers and thunderstorms to the region on Friday. A cold front will sweep through after that, ushering in drier conditions for the weekend. Temperatures will stay warm into next week with highs in the 25–30 °C range.
Today's seasonal daytime high in Winnipeg is 23 °C while the seasonal overnight low is 10 °C.