Winnipeg will see another couple days of beautiful warm weather before a large-scale pattern change brings cooler and unsettled weather back to the region.
The upper ridge that brought highs close to the 30 °C mark yesterday will continue to bring seasonably hot conditions for a couple more days. Winnipeg will see breezy southerly winds near 30 gusting 50 km/h over the next couple days as temperatures climb to highs in the upper 20s. Solidly in the warm air, Winnipeg will see another mild low near 16 °C tonight, but temperatures will dip a tad cooler on Thursday night as the warm air begins to move off to the east. The city will see sunny skies today while Thursday will start sunny with cloud moving in through the afternoon.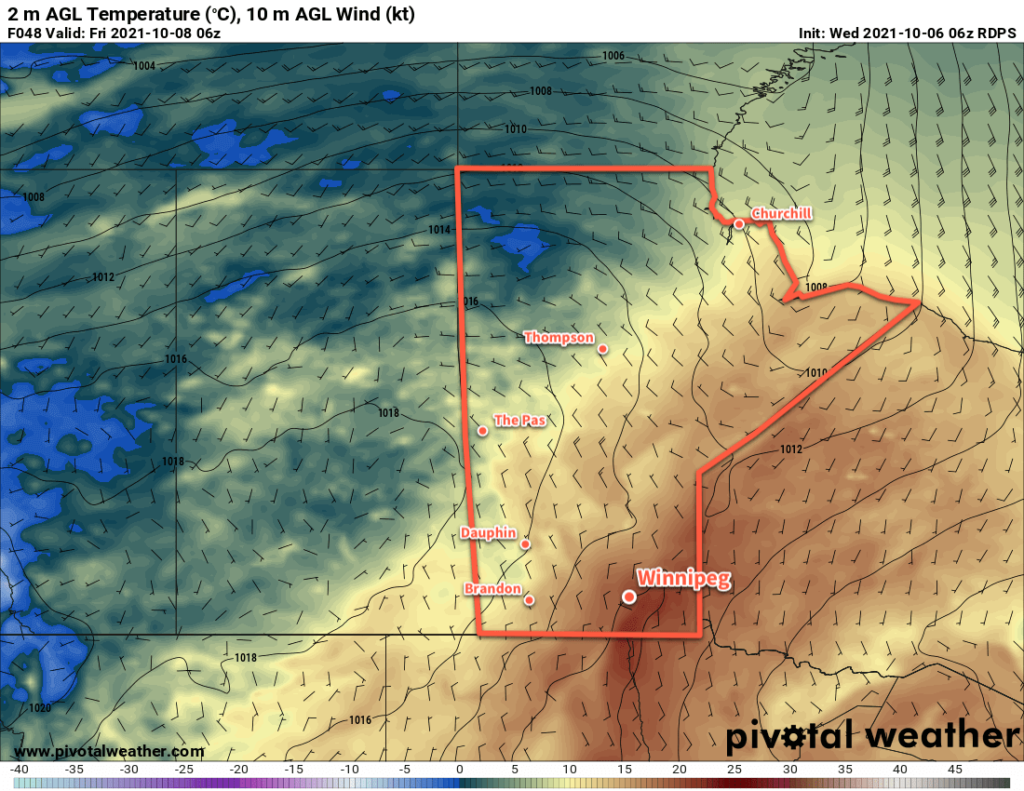 On Friday, an upper trough moving in from the west coast will push a cold front into southern Manitoba. At the same time, a shortwave will lift out of the Dakotas and will support an area of rain that will move to the northeast. These two things combined will bring cooler, cloudier weather to Winnipeg as winds shift to the north. The city will see a high near 18 °C on Friday with a good chance of rain through the day. The chance for a bit more rain will continue on Friday night as temperatures dip to a low near 12 °C.
Long Range Outlook
Friday marks the beginning of a shift to a much more unsettled pattern that will persist through the weekend and into next week. More rain is likely this weekend with the potential for some more organized accumulations across the region. Conditions will settle with mild temperatures to start next week, then another large storm system is forecast to move in mid-week, bringing the potential for a substantial rainfall and a return to seasonal temperatures.
Today's seasonal daytime high in Winnipeg is 13 °C while the seasonal overnight low is 2 °C.