Above seasonal temperatures will return to Winnipeg this weekend, but then the Polar Vortex will bring another blast of Arctic air to the Prairies.
Winnipeg will see a seasonably cool conditions today as an Arctic ridge slumps southwards through the day. Temperatures will climb into the mid-teens with mixed morning skies giving way to more consistent sunshine in the afternoon. There's a small chance of a few flurries with the morning cloud, but any amounts would be very limited.
The next "big" weather system will begin moving into the area on Saturday. Southerly winds will strengthen tonight as a swell of warmer air begins pushing across the Prairies from the northwest. This will bring cloudier conditions back to the region this weekend, but much warmer weather. Temperatures will climb into the -10 to -5 °C range Saturday afternoon, then further to near freezing by Sunday morning. The region will see moderate southerlies up to 40 gusting 60 km/h on Saturday that will ease on Saturday night. The winds will shift northwesterly on Sunday morning.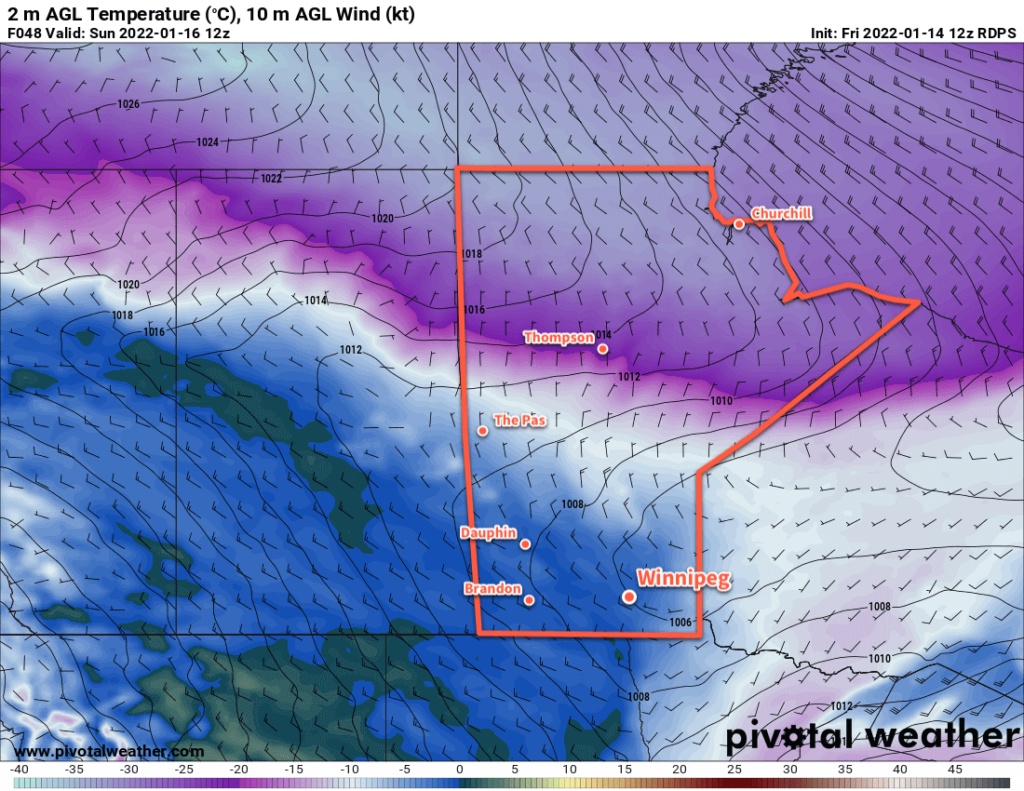 A bit of light snow is possible as the warm front pushes through on Saturday night, then again as a cold front slumps southwards later Sunday morning. Accumulations will be quite low with only a couple centimetres possible.
Cooler weather will then begin to slump back southwards into the region beginning Sunday night.
Long Range Outlook
The main feature driving the weather next week will be the return of cold air associated with the polar vortex. Currently, it sits over much of Baffin Island and into the northern portion of Québec. Next week, though, it will shift westwards and then drop south, re-establishing itself over Hudson Bay again. This will set up a pipeline of cold Arctic air over Manitoba and send daytime highs back down into the minus 20s.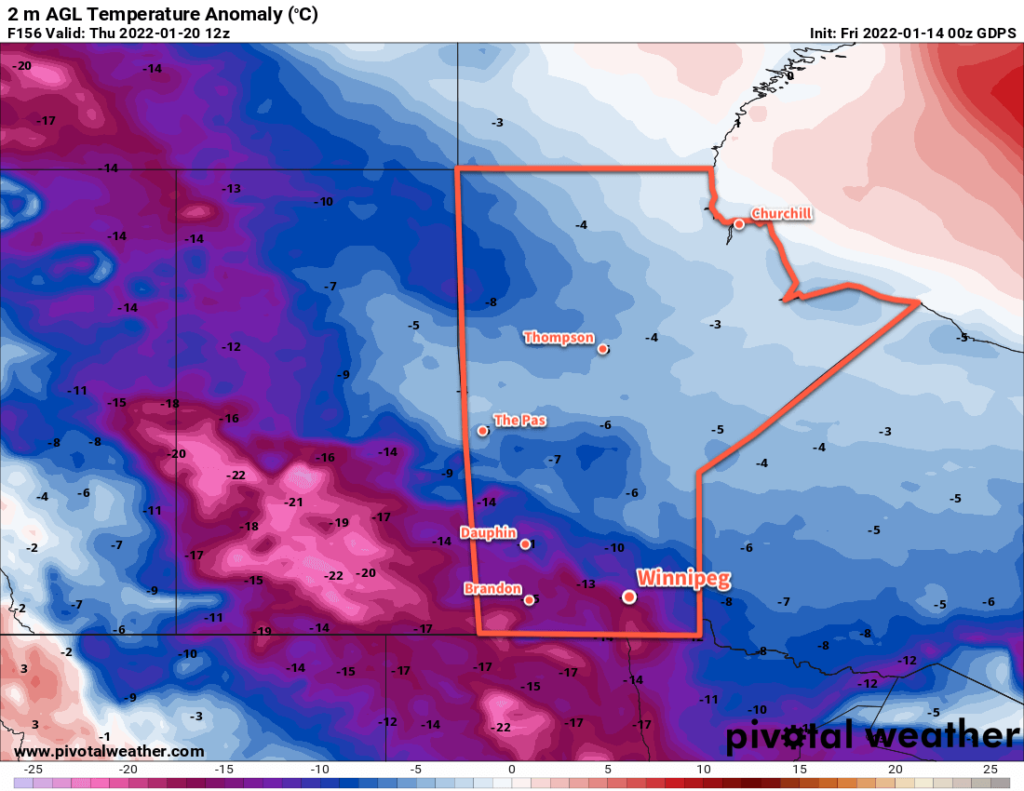 There's a little uncertainty on when exactly it will set back up over the region. Some forecasts show it establishing its influence here by Monday, some others have it's arrival delayed until mid-week with a bit of cloud and snow moving through in advance. Either way, temperatures will be heading back into the -20s next week for at least 4–6 days.
There is good agreement though that it will not remain locked over the region for a prolonged period. Forecasts show the Polar Vortex once again shifting back towards Baffin Island then northwards again sometime near the end of next week. This will allow warmer temperatures (and cloud, and the renewed chance for snow) back into the region.
Today's seasonal daytime high in Winnipeg is -13 °C while the seasonal overnight low is -24 °C.