This week will remain mild with temperatures generally on the positive side of zero. However, there will be a chance for precipitation on Tuesday.
Today will see a continuation of Sunday's warm weather. High temperatures will be in the mid single digits in the Red River Valley, and perhaps a bit higher over the snow-free area to our west. Skies over the Red River Valley will be a mixture of sun and cloud, while conditions over western Manitoba are mainly cloudy. The only wrinkle in today's forecast is the potential for fog tonight, aided by the additional moisture generated by the snow melt.
A low pressure will pass to our south on Tuesday, bringing rain and snow to southern Manitoba. At this point it looks like precipitation over south-eastern Manitoba will primarily come in the from of rain. The Red River Valley will probably see a mix of rain and snow, while western Manitoba sees primarily snow. Large amounts of rain/snow are not expected, but models hint at the potential for localized bands of moderate precipitation which could bump up totals in some areas. Most areas will probably see 3-6 mm of accumulation, in the form of rain and/or snow.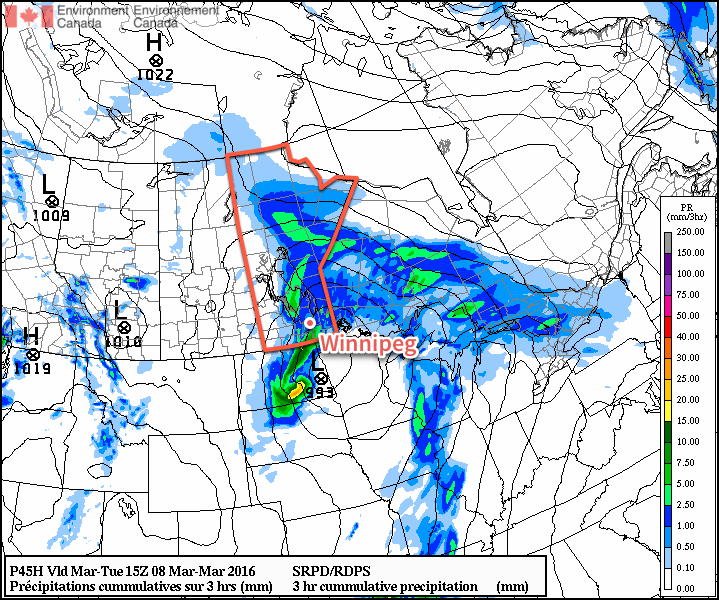 Wednesday will be a slightly cooler day as a colder air mass surges southward behind Tuesday's departing low pressure system. High temperatures will be near the freezing mark with breezy north winds.
Long Range
The long range forecast shows no indication of winter returning. Models strongly suggest that most, if not all, of March will be seasonably warm. Enjoy the snow now, it may not last much longer!